06

Nov 2013
Green Cleaning Products, What You Should Know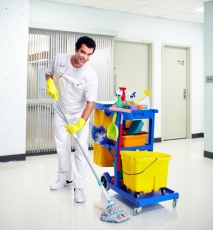 Green Cleaning Products, What You Should Know
The cleaning industry is an ever growing one, with over 80 000 chemicals currently in common use, many of which are harsh components that have been proven to cause allergic reactions, respiratory problems or even damage the reproductive system. It is no wonder that more and more people are questioning the effects of everyday cleaning materials on our health and wellbeing. This is where green cleaning offers an alternative, providing non toxic products that preserve human and environmental health.

How to Spot the Fakes

There are many domestic materials out there that claim to be eco-friendly, without covering the necessary requirements. For that purpose the voluntary certification programme Ecolabel was created over 20 years ago. They cover most of Europe and their symbol is a flower, which would be printed on the package of all approved products. If you are unsure whether a particular cleaning item is eco-friendly you can check through their online Ecolabel Catalogue.

UK government has always been very active in matters regarding the environment. In year 2001 the Department for Environment, Food and Rural Affairs was created and is currently the official competent body, enforcing Ecolabel certification in the Kingdom. Next time you are in doubt whether a cleaning product is truly green, search for any mention of that certification or DEFRA, making the right choice is easy, when you are well-informed.

Pros and Cons of Using Eco-Friendly Materials

There are a lot of myths regarding the usage of green cleaning supplies. Some stem from misunderstandings of terminology, and others are just outdated. Environmentally friendly industries are gradually becoming more and more reputable in their strive to be both responsible with their resources and competitive on the market. Here is what you can expect of a high-quality eco-friendly cleaning materials.

• Do you bit to be environmentally friendly. For a cleaning product to be considered green it has to be biodegradable and with low aquatic toxicity. That way you can be sure that your cleaning waste waters and materials won't pollute the earth. All resources used to make the item have to be renewable and packaged economically.

• Green cleaning products don't disinfect. This is true, however, a lot of people misunderstand what disinfect means. While the products are perfectly capable of killing a big portion of the bacteria, they cannot get rid of the sturdier ones like staph, E-coli and Salmonella. As long as you clean regularly and have basic hygiene habits (washing hands regularly, keeping shoes out of the house) you wouldn't need to treat you surfaces with any harsher chemicals more than a few times a month.

• No long term health hazards. A lot of the chemicals used in regular cleaning products can cause health complications such as asthma, sinusitis and allergies, when exposed to them over long periods of time. A cleaning product is usually harmless on its own, but modern consumers often use many "specialized" chemicals and the repeated exposure to them can add up. Even though green cleaning supplies don't provide quite the anti-bacterial kick, they will be much more merciful on your skin and organism.

• Green cleaning products require a bit more scrubbing to reach the same result. The low toxicity levels mean that you might need to rub the chemical a bit harder into the stain. A good technique is to spray on the surface a bit of the material and leave it for a good minute, then rinse thoroughly. Often the basis of green cleaning products are organic chemicals and bacteria, which require a bit more time to react with dirt.

• A Gentler treatment for your home's surfaces. The lack of abrasive materials and acids means the product will clean your items without damaging them. Because of the organic nature of eco-friendly cleaning items, their aroma is often natural and not added with even more chemicals.

Considering all these features of green materials, it is up to what your personal preferences are, when picking your next cleaning item in store. However, if you are genuinely concerned about the negative effects heavy chemicals can have on your children and loved ones, but are also worried whether domestic cleaning products can do a good enough job, you might want to consider hiring professional help. Professionals who take their environmentally friendly approach very seriously will provide you with a spotless quality clean every time.

Author Bio: Theresa Symons is a moving and cleaning industry professional with experience in providing move and cleaning services on the UK market. With her expert advice and help, she has helped hundreds of people achieve their perfect home dreams.